origins



works


family


links


home
ORIGINS
Figure 3.2
A fairly common form of Zingerplatz insertion. Caution must be exercised not to press too deeply when inserting the needle into the dominant zinger-orb. This procedure was discovered during a simple parlor game at the house of Emile B. Smith, universally regarded as the father of modern nonsense.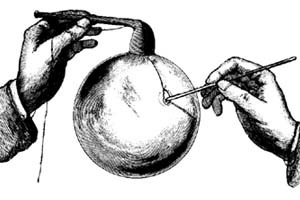 WHAT IT IS
Founded in April 2002, Zingerplatz Pictures, Inc. is the demon stepchild of Picture Business Productions. Joe Cultrera, a former partner in Picture Business, began Zingerplatz with little thought and no long-term vision, hallmarks of Cultrera's business strategy. "I will start an empire, and it will be called Zingerplatz," Cultrera declared to a gathering of potential business investors at a Laundromat in Queens. Several quarters were donated and the rest is television history.

In a recent interview, a source close to Cultrera explained, "He's quite mad you know, completely harmless but completely nuts." When asked what a Zingerplatz was, Cultrera eloquently responded, "Damnit - just leave me alone!"

And so you have it. A man with a vision. A word without definition. A world without sense. Amen.